Rajasthan Civil Judge Exam Pattern & Syllabus
17 May 2023

Posted By Editor

Under Uncategorized
The Rajasthan High Court issues Rajasthan Judiciary Exam and Pattern. All interested candidates can look at their official site and get updates on the posts.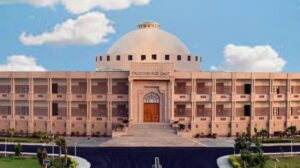 There are three stages of the Rajasthan Civil Judge Exam:
Preliminary Exam – the screening test – MCQ Based – Language: English
Mains Exam – Written / Subjective Based – Offline
Interview – Viva Voce
The Preliminary Exam is conducted online where the candidates are screened and the selected candidates appear for the Mains Exam, which is written in nature. Once the candidate qualifies for the written exam, becomes eligible for the Viva Voce.
Syllabus for Rajasthan Civil Judge Exam:
A. Preliminary Exam:
| | |
| --- | --- |
| Law | The same syllabus is prescribed for Law Papers I & II for the Main Examination. |
| Hindi Proficiency | Grammar, Idioms, Proverbs etc. |
| English Proficiency | Tenses, Articles and Determiners, Phrasal Verbs and Idioms, Active & Passive Voice, Co-ordination & Subordination, Direct and Indirect Speech, Modals expressing various concepts, Antonyms and Synonyms |
B. Mains Exam:
Paper
Marks
Subject
Law Paper I
100
Code of Civil Procedure, l908,
The Constitution of India,
Indian Contract Act,1872,
The Indian Evidence Act, 1872,
The Limitation Act, 1963,
The Specific Relief Act, 1963,
The Transfer of Property Act, 1882,
Interpretation of Statues,
The Rajasthan Rent Control Act, 2001,
Order/Judgment Writing
Law Paper II
100
The Code of Criminal Procedure, 1973,
The Indian Evidence Act,1872,
The Indian Penal Code, 1860,
The Juvenile Justice (Care and Protection of Children) Act, 2015,
The Negotiable Instruments Act, 1881 (Chapter XVII),
The Probation of Offenders Act, 1958,
Protection of Women from Domestic Violence Act, 2005,
Framing of Charge /Judgment Writing
Language Paper I
Language Paper II
50
50
Hindi Essay – Essay writing in Hindi language.
English Essay – Essay writing in English language.
Exam Pattern & Marks Distribution:

A. Preliminary Exam:
No. of Question: 100
Total Marks: 100
Duration: 2 Hours
Medium: English
Type: Written
B. Mains Exam:
No. of Paper: 4
Total Marks: 400
Duration: 3 Hours for each
Medium: English
Type: Subjective
C. Viva Voce:
The Viva Voce is the final stage where the candidate appears for an interview. The Viva Voce carries 35 marks.
Eligibility:
A candidate-
Must be a citizen of India
Holder of a Law degree recognized from a Law University established by Law in India
Eligible to practice as an Advocate in India
Age Limit:
The minimum age is 23 years, while the maximum age allowed for the exam is 35 years.
Concluding remark:
We hope that is helpful. Leave your comments below in case of any queries. All the best for your Rajasthanpunjab high court
Judiciary preparation!